Church of Our Lady of the Holy Rosary of Fatima, Rialto Parish
500 South Circular Road, Rialto, Dublin
Mass on Holy Days  10.00am; Public Holidays 10.00am; Rosary: Monday to Friday after 10.00am Mass; Novena to Our Lady of the Miraculous Medal After the 10am Liturgy on Mondays; . Confessions: on request any time. Exposition of The Blessed Sacrament every Friday morning after 10.00am Mass for one hour.
NEXT LIVE SERVICE

10:00
- Liturgy of the Word and Holy Communion
Watch Videos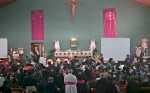 Archbishop Diarmuid Martin and Cardinal George Alencherry: Blessing of the...

Syro-Malabar Mass. Celebrant: Cardinal George Alencherry 16:00 06-12-2018